If you have any other information on Richard O'Sullivan,
click here
to add it.
What Happened To Richard O'Sullivan?
Below is information other people have submitted about Richard O'Sullivan...
All information on this page are the views and opinions of the submitter and do not necessarily reflect the views and opinions of BoredAtUni.com.
Errr.... Who? Star of TV shows "Me and my girl" and "Robin's nest"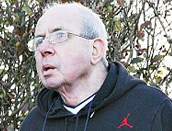 Check out Richard O'Sullivan in action...
Please note that messages containing statements regarding individuals may be removed at the request of the individual in question.
My mum jacky penfold dated him years ago have heard many good stories.
Tash
Richard came to a party when I lived at Spring Cottage, Cross-in-Hand with Patrick Cargill in 1972. It was summer and the latest series of Father Dear Father had been wrapped and the party was a post-season celebration. Richard got so pissed he couldn't even find his car door, though god knows how, he drove home to London from East Sussex. He was then 29. Lovely man, truly lovely.
Vernon Page
Sure you wont remember me but we were at school together hope you are doing better
Carole Brooks
Richard O'Sullivan was also in the 70's sitcoms doctor in the house and doctor at large and he was more conscientious than his fellow medical students. He was a kind of geek compared to them and tended to be left out socially - that was a different role to his heartthrob roles.
maxine dare
How is Richard O Sulliivan health since 09 A big fan hope he getting better
Ray Dempsey
Currently I have no news from Richard O' Sullivan but may I ask to anyone here if we still can get his photo/autograph somewhere? anyway...

Hello Sir!

If you reading this, I just want to say I love you soooo much! I was born in 90s but I have my full heart and love to retro series since I was a teen! First time I watch you on Doctor series then on Man About the House and more! I am not from England and I can't meet you while I really really want to meet you!! you was a 70s heartthrob and for me until now.. you still! Sometimes I wish I can meet you back in 70s too! anyway thank you for all the lovely and irreplaceable memories that you have brought into my life via 70s britcom. Have a nice day :)
Syzz
kisimul_castle@outlook.com is the email address to get that photo of Richard O'Sullivan if it helps. Sorry, I thought I'd have to give my URL after the last process but it never came. Please respect my email please.
Steve Widdicombe
I had an image to your Richard O'Sullivan observation as a "true" then photo as lets face it Rick was a pro when he was 10 and IS an old man, so get back to me and you can post it. The timing was syncronistically serendipitous actually because as I was perusing your page "he" was on my other computer which is set up as a DTV unit and got a screen grab.
Steve Widdicombe
26/02/2017
I have just been on Youtube watching the Sherlock Holmes (Ronald Howard as SH) TV series. Episode 37 - The Case of the Unlucky Gambler; has a young RO'S playing a major part, which he acts wonderfully.
SEE:
https://www.youtube.com/watch?v=kIpBoix1CCk#t=1600.621
I'm a huge fan of RO'S and recognised him immediately (having seen him in 'Carry on Teacher' etc.). Before viewing, I was unaware that he was going to 'pop-up' though, so a great and happy surprise. Well worth a look... All the best to Richard and his followers. John B.
John B.
I joined the Royal Green Jackets at Winchester in 1973 and remember watching a promotional film about the army (RGJ/Light Infantry) staring Richard. Anyone know anything about this film....!!!!!
Neil W