If you have any other information on Kenan and Kel,
click here
to add it.
What Happened To Kenan and Kel?
Below is information other people have submitted about Kenan and Kel...
All information on this page are the views and opinions of the submitter and do not necessarily reflect the views and opinions of BoredAtUni.com.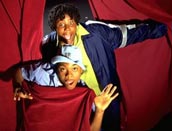 Errr.... Who? Stars of the childrens comedy show
Please note that messages containing statements regarding individuals may be removed at the request of the individual in question.
Kel was recently a guest star on Sam and cat the episode is called PeezyB so he obviously didn't die now plz shut up
Dylan
kel hot kenan ok write back if u agree
telaeh
kenan is alive and making films. kel did get shot and gave everyone a scare but hes alive 9/23/12 he even hosted a colage fest today
bridget
Bitches be triflin Tasha. I'm totally on your side. Don't listen to them. I know they are your brother and baby daddy. I know Keenan and he told me all about his girl Tasha. Case closed.
Jimbo
is there anybody who knows about english subtitles for kenan and kel ? I'm hungary and I would like subtitle because I don't speak english very well so I can't do that without subtitles ... or is there anybody so willing who can write it and send me it ? I would say thanks very much for it
HeroWanted
who is interested in buying the whole series of kenan and kel on dvd if so email on faz_gz@hotmail.com
faz
as of 2012 Kenan is a regular on SNL and Kel is doing independents and has a show on his website. nobody died everybody is fine. i miss their show tho .. =(
Stephy
ok kenan was recently in teennick at night for the 90s commercials and kel well i dont know were he is i wish i knew
cole
Kel was on good luck Charlie
kate
25th November 2011

Kenan recently was in an iCarly + Victorious special called iParty.. Still alive and well! His voice still sounds the same and still makes me laugh!
Kenan not dead!